ROTARY LAUNCHES ADULT SCHOLARSHIPS WITH GATEWAY
NEW HAVEN, CT – College students who don't go straight from high school to college make up the majority of undergraduates in America, yet these older, "nontraditional" students, many of them working parents, struggle to find financial aid. Branford Rotary has now rallied to that cause, creating the first dedicated nontraditional student scholarships at CT State Community College – Gateway.
Starting in the Fall of 2023, Branford Rotary will award $5,000 a year to Gateway – the largest campus of the state's recently combined 12 community colleges. The money will be used to help nontraditional students from Branford aged 26 and older, and can be awarded to multiple students seeking degrees or technical certificates.
"It's not easy for nontraditional students to juggle work, school, family and finances," said Branford Rotary Past President Sandy Carter. "Our scholarships are directly aimed at these folks, not just for tuition, but to buy textbooks, or cover licensing fees, or purchase tools of their trade."
"The Gateway Foundation is thrilled that Branford Rotary has recognized how great the need is, and how big an impact its scholarships will have," said Gateway Foundation Chair Thomas Beirne III. "This is Gateway's first scholarship program exclusively for nontraditional students, and we hope it's the first of many as other communities come to realize what a difference these programs can make."
WHO ARE NONTRADITIONAL STUDENTS?
Generally 25 and older, nontraditional students are primarily working people, many of them parents with young families who are paying for school themselves while also holding down jobs. Others are veterans attending school during or after their service. These undergrads often want to change careers, or finish their education after time off, and seek not just two- or four-year degrees, but certificate programs to pursue careers in fields like electronics, automotive repair, water management, firefighting, and countless others.
Gateway student Leah Nichols is one example, said Beirne.
"Leah is a single mom, taking classes full-time and working part-time to build a better life for her son," said Beirne. "She's studying to be an automotive technician and has to cover tuition, books, food, rent, utilities, childcare, healthcare and transportation. And she has to purchase tools. Scholarship aid makes education possible for Leah and students like her."
More than 70 percent of all undergrads are nontraditional students, and one in ten is over 40, according to the National Center for Education Statistics. But most scholarships in this country go to graduating high school seniors, leaving adult students to fend for themselves. This particularly affects students in certificate programs, who are not eligible for the federal Pell Grant program.
Branford Rotary's involvement stemmed from an email sent to the Club by a single mother in her 30s who wanted to become a nurse. She asked if the Rotary had scholarships for adults.
"Our Club awards $12,000 a year to graduating high school seniors, but we had never considered older students," said Branford Rotary's Andy Marlatt. "After we got that email request, we were forced to ask ourselves, 'Why not?'"
It's a question Branford Rotary hopes other organizations will ask themselves.
"This is really a national problem, but solving it starts locally, and we hope this is the start of a movement across the country," said Marlatt.
---
BRAFFLE 2023!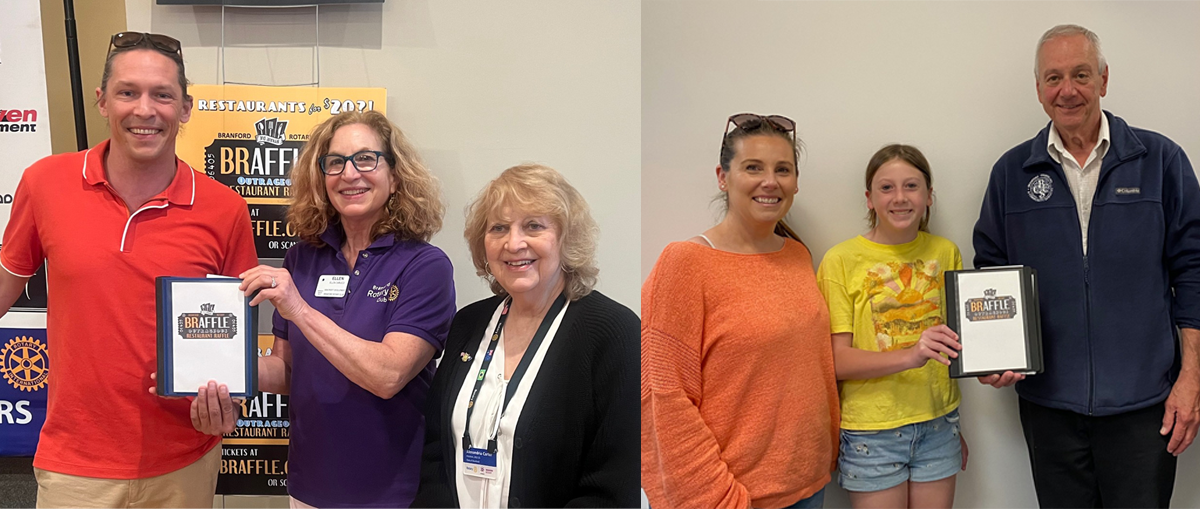 The 3rd annual Braffle - Branford Rotary's Outrageous Restaurant Raffle - is over, the winners have been chosen, and most importantly, the project raised $50,000 for the community.
Congratulations to Absurd Grand Prize winner Eric Anderson (pictured left) and Ridiculous Second Prize winner Brooke St. Pierre (in orange)! And congratulations to you, Branford, for supporting Braffle and the town's Basic Needs program.
As the Absurd Grand Prize winner, Anderson took home $100 gift cards to EACH OF 50 Branford restaurants. (A $5,000 value). St. Pierre won $2,500 in gift cards to 50 restaurants. And there were 8 more winners who each got $100 gift cards.
"Branford is home to many of my favorite restaurants, so participating in a Rotary sponsored fundraiser with proceeds going to such a great cause, and the chance to win 50 $100 gift cards, was a no brainer!" said Anderson. "I still can't believe I won."
The town's Basic Needs program, run by Branford Counseling & Community Services, helps families in need with food, rent, and utilities. In all, the three Branford Rotary Braffles, which have all sold out, have raised $150,000 for the community. In other words, every entry purchased has been a win for Branford. Look out for Braffle IV coming in 2024!
---
2021 BRAFFLE WINNERS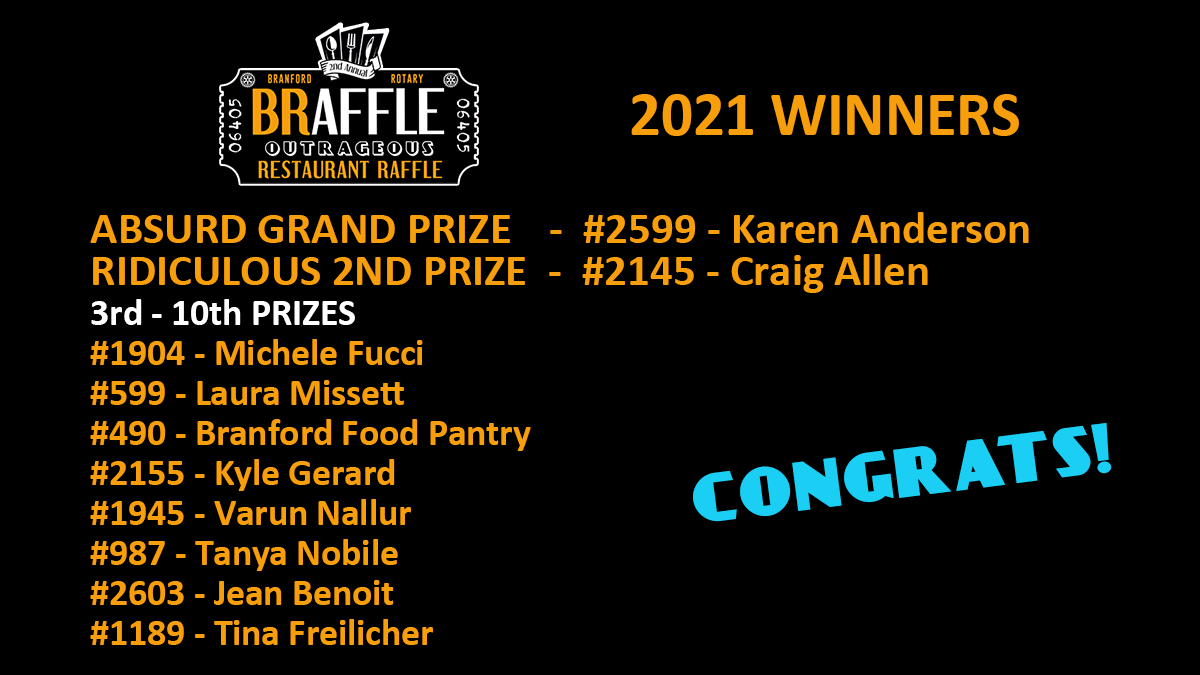 As the picture illustrates, the 10 winners of the 2021 Braffle have been chosen!
Our thanks to the wonderful people of Branford and surrounding towns, the 2nd annual Braffle - Branford Rotary's Outrageous Restaurant Raffle – raised $60,000. Eighty percent of the net proceeds will go to Branford Counseling & Community Services' Basic Needs program, which helps families in need with food, rent and utilities. Branford restaurants received $7,500, while the Branford Rotary Club Foundation, which help fund scholarships and support charitable organizations, will receive the remainder.
"This is a tremendous event and I want to thank all the Rotarians for Braffle and for all they've done for the town," said First Selectman Jamie Cosgrove. You really are what makes Bfd a great community."
The 2021 Braffle is even more outrageous than the 2020 edition. The Absurd Grand Prize winner receives $100 gift cards to each of 50 – yes, 50 – Branford restaurants ( $5,000 worth) The Ridiculous Second Prize winner gets $50 cards to all 50 ($2,500 worth).
Like its predecessor, the 2nd annual Braffle sold out - this time with 3,000 tickets - showing Braffle is, to put it mildly, "a thing."
"Branford residents loves their restaurants as much as they do helping others, and the incredible response we've gotten from Braffle proves it," said Branford Rotary President Ginny Page.
---

HELP OUT - TAKE OUT was a public-private partnership that supported both local restaurants and Branford residents who were struggling or have lost income due to the pandemic.
A joint effort of Rotary and Branford Counseling & Community Services (BCCS), the program purchased gift cards from local restaurants and distributed them to Branford residents in need, especially those who were out of work, could work, or lost hours as a result of the coronavirus.
With the help of our wonderful Branford community, Branford Rotary raised $40,000 for HELP OUT – TAKE O­UT.
---
BRANFORD ROTARIANS WORK IN KENYA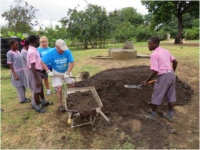 BRANFORD, CT. Aug. 29, 2018 — There were five Rotarians from Branford, and 14 more from neighboring Connecticut towns, and a few hundred school children and teachers and citizens from the towns of Mombasa and Takaungu in Kenya.
Together, in a week's time, they spruced up two schools, repairing and repainting them, and dug holes to plant dozens of trees that will in time be welcome shade trees and fruit-bearing trees. And besides planting and painting, they all sang and danced in these towns on the eastern edge of Kenya, on the shore of the Indian Ocean. READ MORE...