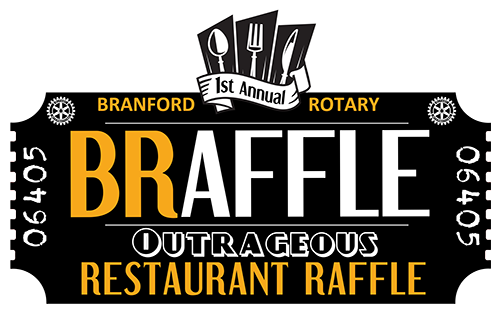 Welcome to the 2020 Branford Rotary BRAFFLE - The Outrageous Restaurant Raffle! Braffle is now SOLD OUT. THANK YOU!
ABSURD GRAND PRIZE:
$100 Gift Cards to 34 Branford Restaurants. Yes, 34 different restaurants! A $3,400 value!
RIDICULOUS SECOND PRIZE:
$50 Gift Cards to 34 Branford Restaurants. A $1,700 value!
SOMEWHAT REASONABLE 3rd-10th PRIZES:
A $100 gift card you can use at the restaurant of your choice.
---
Ten prizes in all. Only 2,000 tickets sold.
It's all part of Branford Rotary's innovative HELP OUT – TAKE OUT program, a partnership with Branford Counseling & Community Services that purchases gift cards from local restaurants - helping them stay viable - and distributes the cards to residents in need, including those who've lost work during the pandemic. To date we have paid for 3,000 meals and supported restaurants with more than $30,000 in purchases. And you can help us support the community, and possibly win an outrageous prize, by buying your tickets for Braffle.
Braffle, and HELP OUT - TAKE OUT, are supported by our generous Branford Rotary partners: