WHY BRANFORD ROTARY?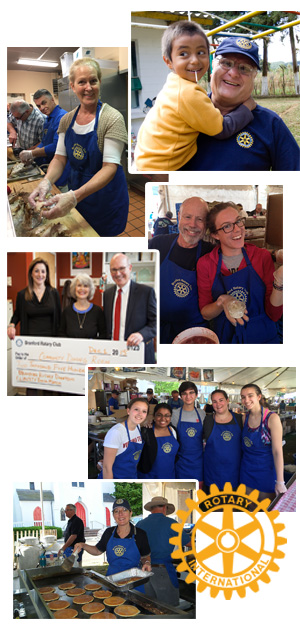 When you join Rotary, you're connecting to a network of 1.2 million passionate individuals in 35,000 clubs across the globe. Here in Branford, you're teaming up with 80 Rotarians, men and women from all ages and walks of life who share a passion for 'Service Above Self.'
There are a lot of reasons to become a member of Rotary. Here are just a few:
The Opportunity to Serve: The chance to do something for somebody else and the self-fulfillment that provides is perhaps the best reason to become a Rotarian.
Friendship: In an increasingly complex world, Rotary provides one of the most basic human needs: friendship and fellowship.
Networking: Business networking was one of the founding reasons for Rotary back in 1905, and that's still true today, as Rotary consists of a cross-section of professions and talents. But many Rotarians don't have a local business. They might work in New Haven or Norwalk or New York. Joining Rotary connects them to the community where they live and makes them feel part of something larger than themselves.


Personal Growth and Development: Rotary is an organization of leaders, young and old, who gain from the hands-on projects we do, learning to lead, to motivate and to influence.


Citizenship in the World: Every Rotarian wears a pin that says "Rotary International." There are few places on the globe that do not have a Rotary club. Every Rotarian is welcome – even encouraged – to attend any of the 35,000 clubs whenever they travel. This means you'll have instant friends in both your own community and around the world.


Fun: Rotary can be hard work, but that doesn't mean it's not fun. We have social functions, fascinating speakers, and there is a genuine camaraderie at all our events.
Family Programs: Rotary provides one of the world's largest youth exchange programs; high school and college clubs for future Rotarians; opportunities for spouse involvement; and a host of activities designed to help family members in growth and the development.
---
Rotary is a community of doers, people of action who have a large and important presence in the Town of Branford. If you want to help others, we hope you'll consider joining.
For more information, please email membership@BranfordRotary.org, and read our Membership FAQ.
Is Rotary worth it? Don't take our word for it. Listen to what Bono has to say:
To download a printable membership application, please click HERE.