2020 ROTARY SCHOLARS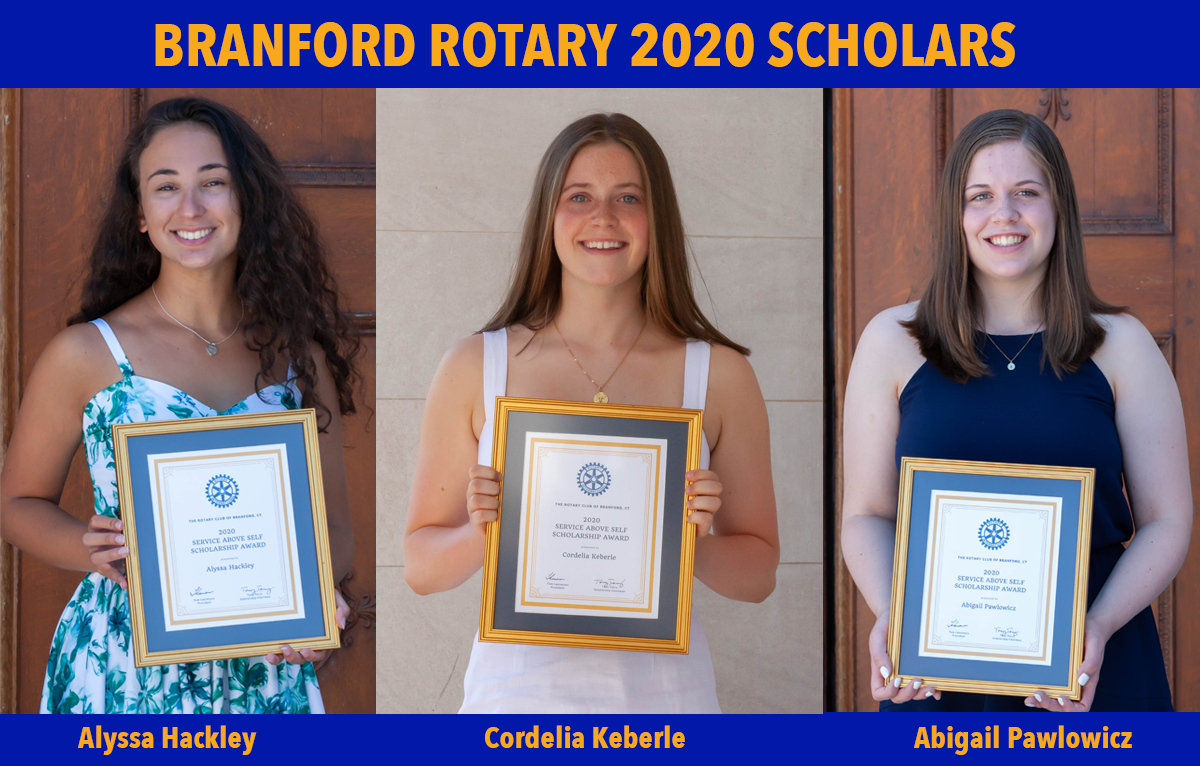 JUNE 2020 - The Branford Rotary Club is proud to announce that three recent graduates of Branford High School have been awarded $6,000 in "Service Above Self" scholarships for 2020.
The honors are given annually to high school seniors from Branford who excel both in the classroom and in their community.
Abigail Pawlowicz, the first-place winner, received $3,000 to put toward her studies at Providence College, where she's enrolled this fall.
"Not only did Abigail's application stand out with her clear academic prowess, but she accomplished all of this while being active in Model Congress, Young Women's Club, Interact Club, Chemistry Club, Science Olympiad, competitive gymnastics, cross country, track and volunteer work," said Karen Jensen, a scholarship committee member.
Cordelia Keberle, who has enrolled at St. Lawrence University, was honored for her ability to successfully juggle many responsibilities during her athletic and academic careers.
"We congratulate Cordelia, not only for her accomplishments, but for all she contributes to her peers and community," said Scholarship Committee Chair Tony Terry.
Alyssa Hackley, also attending St. Lawrence, stood out for many reasons, notably her love of equestrianism.
"Alyssa embodies the foundational elements of Rotary," said Chuck O'Connor, a scholarship committee member. "Where she sees a need, she looks to help, where she sees something missing, she works to close the gap. She has demonstrated this consistently in her work patiently training horses and helping children with special needs to grow through their interaction with the them."
Chosen from among a dozen impressive applicants, Terry said the 2020 "Service Above Self" winners all shared an impressive inner drive.
"Their interests encompassed the spectrum, but the striking common denominator among them is the genuine expression of personal initiative," said Terry. "Each one is going somewhere and has already developed a passion to their plans."