BRAFFLE 2023!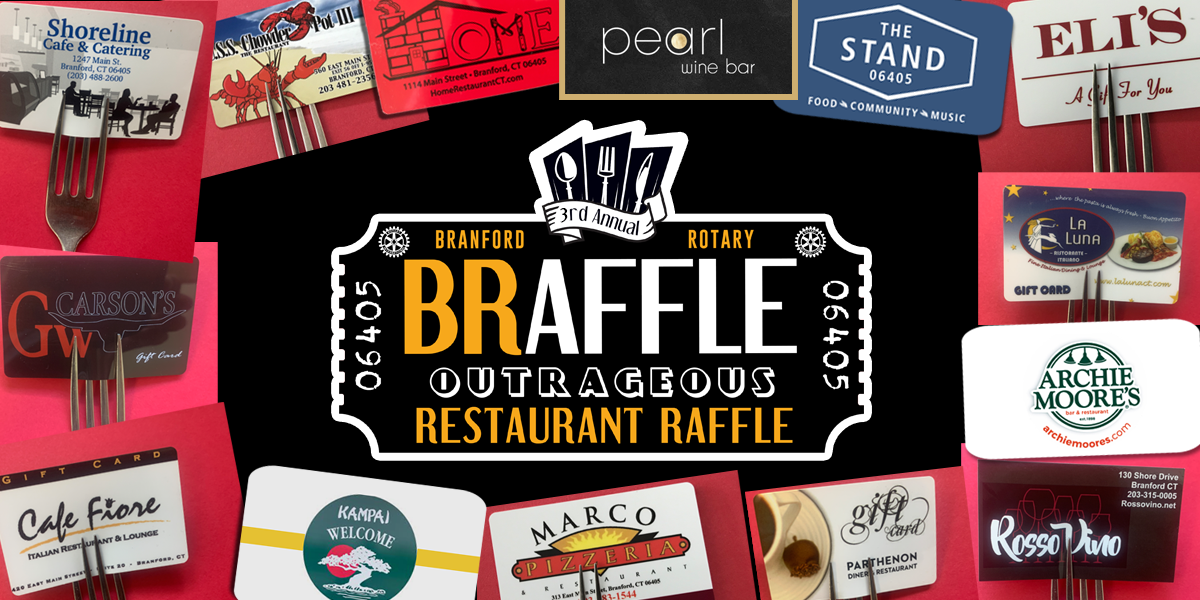 The 3rd annual Braffle - Branford Rotary's Outrageous Restaurant Raffle - has, once again, SOLD OUT. Thank you to all who bought tickets, and good luck!
The live-stream drawing will be held at 6 p.m. on May 16, 2023. You can watch it on our Facebook page, or by going to Braffle.org.
The 'Absurd Grand Prize' is a $100 gift card to EACH OF 50 - yes, 50 - Branford restaurants. (A $5,000 value!) 2nd prize is $2,500 in gift cards to 50 restaurants. And there are 8 more prizes!
Proceeds go to the town's Basic Needs program, run by Branford Counseling & Community Services, which helps families in need with food, rent, and utilities.
The first two Braffles raised $100,000 for the community. In other words, every entry purchased is a win for Branford. Go to Braffle.org for more.
---
WELCOME TO BRANFORD ROTARY
The Rotary Club of Branford, Conn., is a volunteer group of community leaders from all walks of life who join together to serve. As part of the 1.2-million-member Rotary International, our members give their time and expertise to improve lives in Branford, across the shoreline, and around the world. Interested in helping your community? Click 'Join Rotary' and learn more.
---

The Branford Rotary will once again award college scholarships to high school seniors looking to enter college in the fall of 2023. To qualify, students need to be a graduating senior and a Branford resident.
The application deadline is June 6, 2023.
For an application, CLICK HERE
To read more about Rotary's scholarship program, CLICK HERE.
---
2021 BRAFFLE WINNERS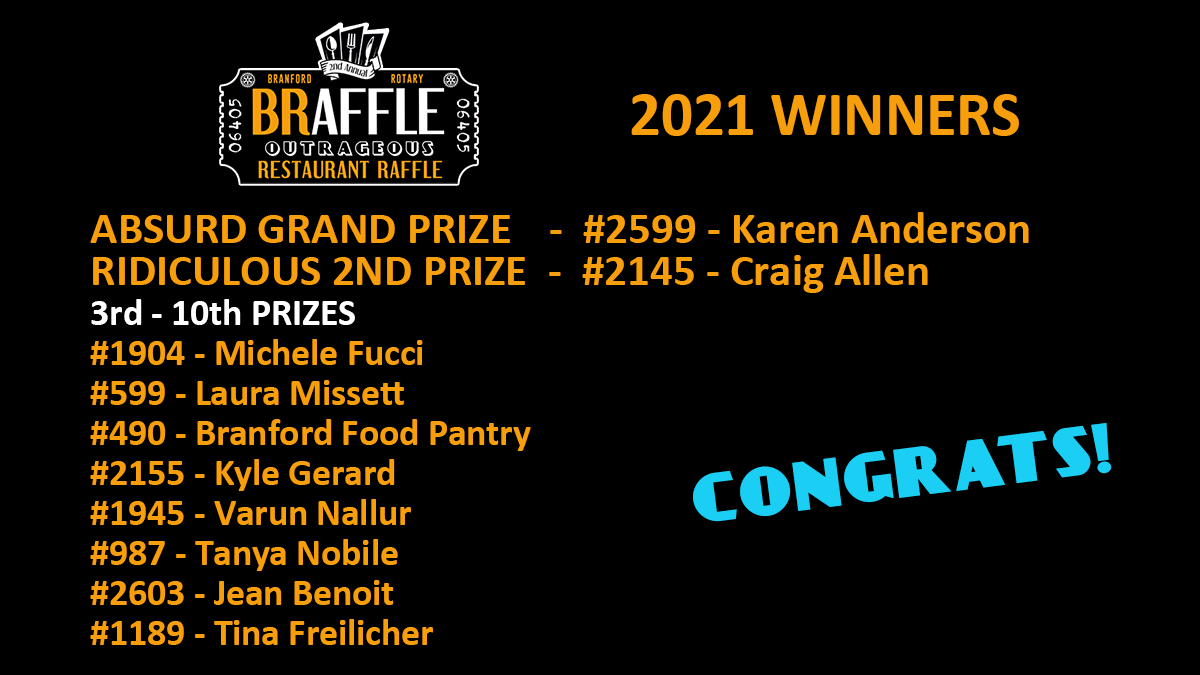 As the picture illustrates, the 10 winners of the 2021 Braffle have been chosen!
Our thanks to the wonderful people of Branford and surrounding towns, the 2nd annual Braffle - Branford Rotary's Outrageous Restaurant Raffle – raised $60,000. Eighty percent of the net proceeds will go to Branford Counseling & Community Services' Basic Needs program, which helps families in need with food, rent and utilities. Branford restaurants received $7,500, while the Branford Rotary Club Foundation, which help fund scholarships and support charitable organizations, will receive the remainder.
"This is a tremendous event and I want to thank all the Rotarians for Braffle and for all they've done for the town," said First Selectman Jamie Cosgrove. You really are what makes Bfd a great community."
The 2021 Braffle is even more outrageous than the 2020 edition. The Absurd Grand Prize winner receives $100 gift cards to each of 50 – yes, 50 – Branford restaurants ( $5,000 worth) The Ridiculous Second Prize winner gets $50 cards to all 50 ($2,500 worth).
Like its predecessor, the 2nd annual Braffle sold out - this time with 3,000 tickets - showing Braffle is, to put it mildly, "a thing."
"Branford residents loves their restaurants as much as they do helping others, and the incredible response we've gotten from Braffle proves it," said Branford Rotary President Ginny Page.
---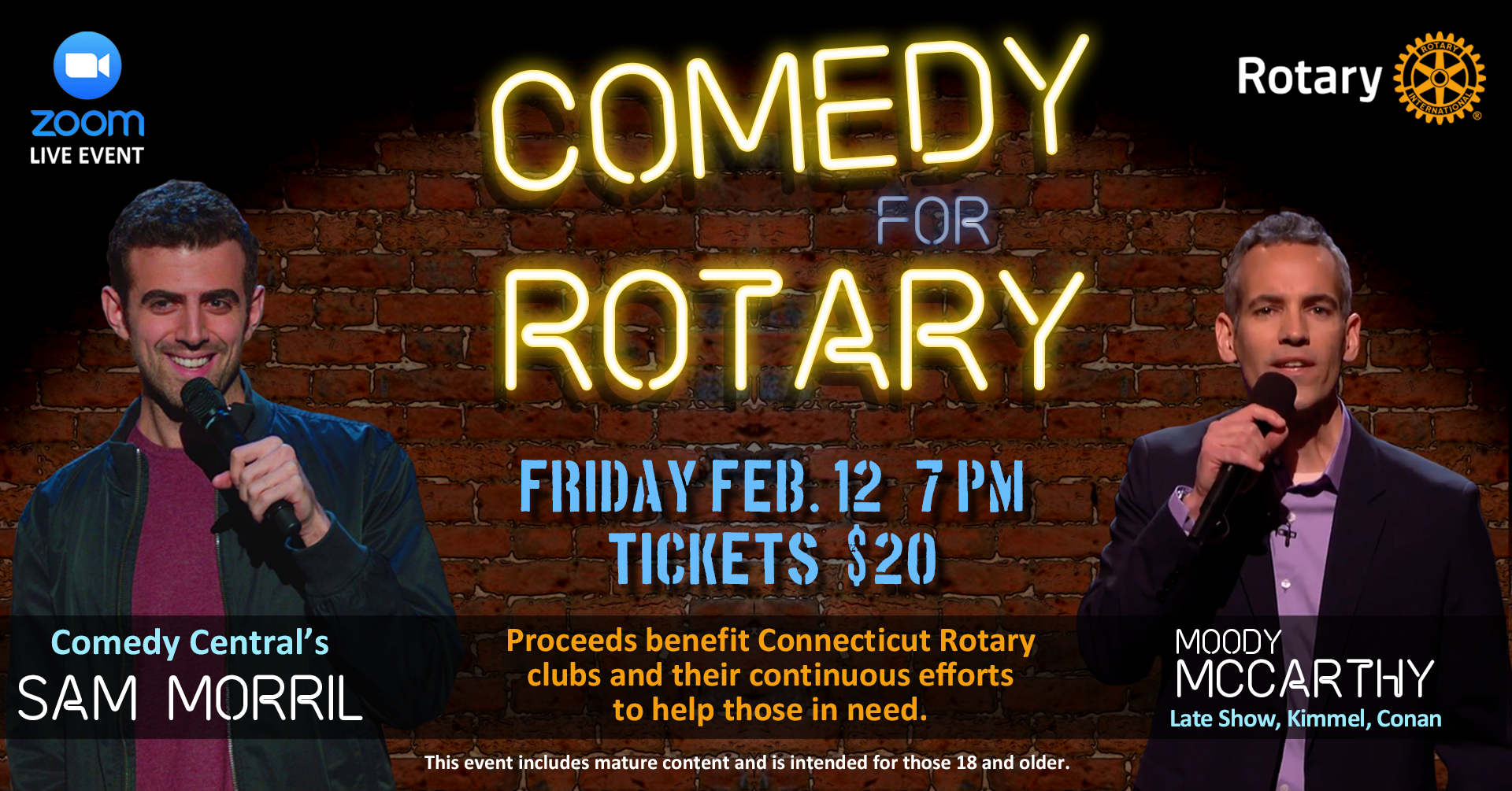 Branford Rotary is proud to co-host 'COMEDY for ROTARY' live via Zoom on Feb. 12 at 7 pm.
Log on to see nationally renowned comics SAM MORRIL (who's had THREE Comedy Central specials) and MOODY MCCARTHY (Conan, The Late Show, Kimmel).
Proceeds support Branford Rotary's work for the community and those in need.
---
BRANFORD ROTARY PANDEMIC RESPONSE TOPS $85,000
BRANFORD, CT - As the coronavirus swept into the state, the strains in Branford were everywhere. At Connecticut Hospice, frontline health workers needed protective equipment. The Branford Food Pantry was having trouble sourcing fresh food. Restaurants and small businesses across town were suffering due to closures, and the ranks of the unemployed swelled.
Faced with this panoply of challenges, the Branford Rotary Club responded in force. The Club spent $5,000 to buy medical gowns for Hospice. For the Food Pantry, Rotary members sourced, bought, and delivered a truckload of fresh produce. And as the needs in town grew, Rotary launched the ambitious HELP OUT – TAKE OUT program, which supports both local restaurants and those who've lost work due to the pandemic.
In all, Branford Rotary has so far responded to the crisis with $85,000 in aid, an unprecedented effort for the service group. (Click for More)
---
BRAFFLE BRAFFLE BRAFFLE!
The first annual BRAFFLE – Branford Rotary's Outrageous Restaurant Raffle – is in the books, with Wendy Bluemling of Branford taking home the Absurd Grand Prize of $100 gift cards to each of 34 Branford restaurants!
The Ridiculous Second Prize - $50 gift cards to each of 34 Branford restaurants – went to Sarah McTavish of Branford, who was, not surprisingly, thrilled.
To read more about Braffle and the winners, CLICK HERE.
---
2020 ROTARY SCHOLARS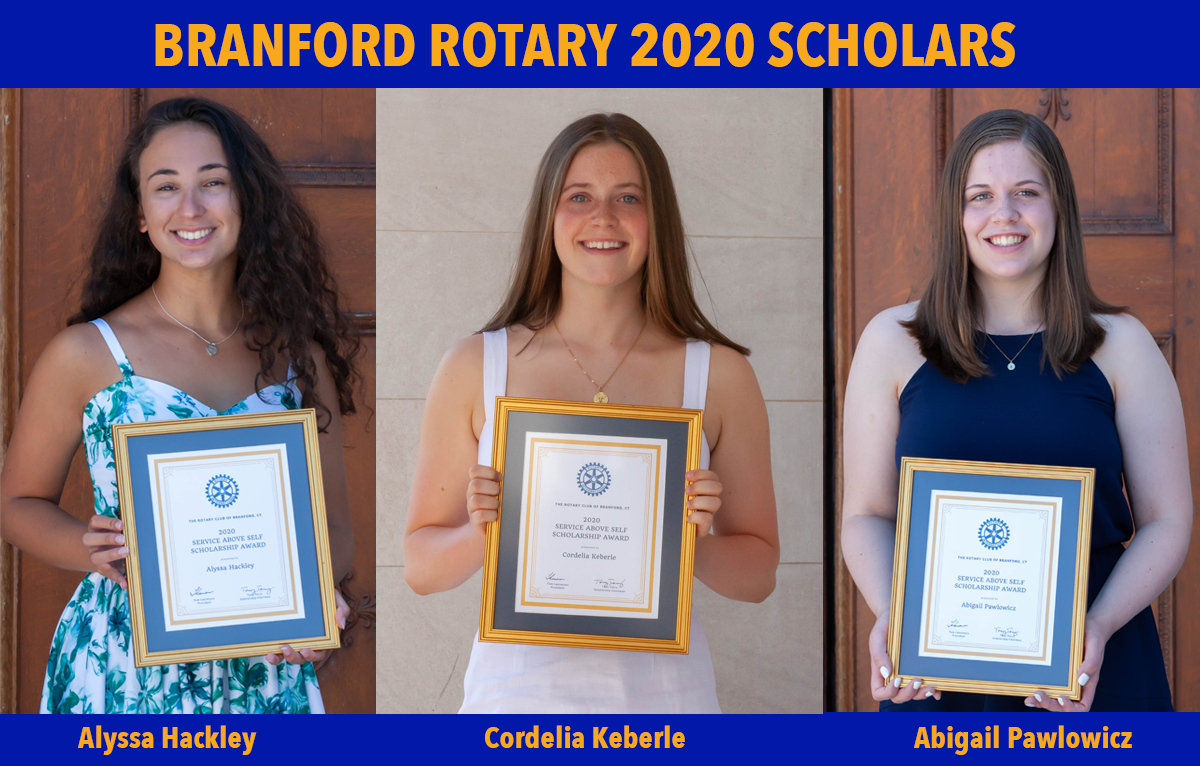 The Branford Rotary Club is proud to announce that three recent graduates of Branford High School have been awarded $6,000 in "Service Above Self" scholarships for 2020.
To read more about them, CLICK HERE
---

HELP OUT - TAKE OUT is a public-private partnership that supports both local restaurants and Branford residents who are struggling or have lost income due to the pandemic.
A joint effort of Rotary and Branford Counseling & Community Services (BCCS), the program purchases gift cards from local restaurants and distributes them to Branford residents in need, especially those who are out of work, cannot work, or have lost hours as a result of the coronavirus. Branford Rotary has donated $10,000 to start HELP OUT – TAKE O­UT, and hopes to quickly ramp-up the program with donations from the community.
---
FOOD ON ITS WAY
(April 19, 2019) - The 46,000 meals recently packed by Rotarians at 'Feed Our Neighbors' are now on their way to Haiti, according to Haitian Health Foundation Executive Director Marilyn Lowney. Last weekend, HHF volunteers (see photos) filled a 40-foot container with the food, plus hygiene items, building materials, and medical supplies and equipment. The container has been loaded on a ship bound for Port-au-Prince, and eventually the town of Jeremie, Haiti.
Nearly 150 Rotarians and volunteers worked the 'Feed Our Neighbors' event, held March 23 in Madison, and organized by the The Outreach Program. Rotary clubs from Branford, Madison, Guilford, Clinton, East Haven and North Branford took part. Congratulations to all those who stepped up to help those in need!
---
ROTARY PEACE FELLOW APPLICATIONS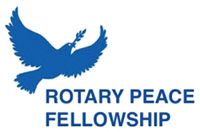 Every year, The Rotary Foundation funds some of the world's most dedicated and brightest leaders to study at Rotary Peace Centers. Many recipients go on to careers with governments, NGOs, the military, law enforcement, and international organizations like the United Nations and the World Bank. Read more...
---
FEED OUR NEIGHBORS
MADISON, CT - In one of the largest Rotary food relief efforts ever held in Connecticut, 150 Rotarians and volunteers from across the shoreline gathered in Madison on March 23 to package 46,000 meals for the struggling residents of Haiti. Read More...
---
---
ROTARY SUPPORTS ORCHARD HOUSE
BRANFORD, CT - The Branford Rotary Club this week donated $1,000 to the Orchard House Medical Adult Day Center, which provides compassionate care for aging adults.
"We are so grateful to the Branford Rotary Club for their very generous support," said Orchard House Executive Director Mary-Margaret Mandel. "Their gift helps provide therapeutic programming, medical supervision, and meals to more aging adults in need. I want to thank the Rotary for making our seniors smile."
"Orchard House is a wonderful organization and what they do for our seniors is so important for the community," said Rotarian Jim Carpenter, chairman of Branford Rotary's annual Golf tournament, which raised the funds. "We're proud to support their efforts to help people lead full, independent lives in their later years."
Orchard House has helped aging adults, especially those living with Alzheimer's disease and other dementia related illnesses, since 1981. The center's mission is to improve the quality of life of older adults and provide support for their caregivers. The goal is to enable aging adults to live independently - in the community - as long as possible.
---
SALUTING OUR VETERANS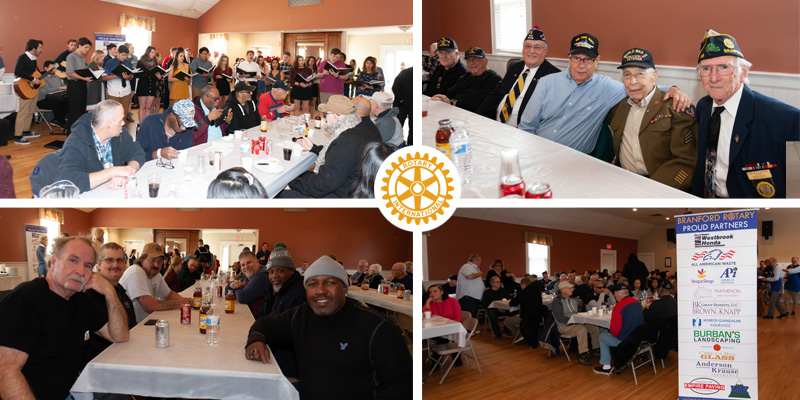 The Branford Rotary Club once again honored those who served in our Armed Forces at the annual Nelson Bernabucci Veteran's Luncheon in November. More than 60 veterans, spanning 75 years of United States military service, attended the event, where they told stories, shared laughs, and were serenaded by the Branford High School Music Makers chorus.
Held at the Italian American Club, the luncheon hosted special guests from the VA's Eastern Blind Rehabilitation Center, as well as members of the American Legion and VFW. Veterans who served from World War II through Afghanistan and Iraq were honored.
"Veterans ensure that we have the rights and freedoms we all benefit from," said Rotarian Josh Balter, who chaired the event and was a 20-year Navy Chief. "When we take the oath to serve, every man and woman in uniform writes a blank check that says we are willing to give our lives for our country. The luncheon is one small way we can honor their sacrifice."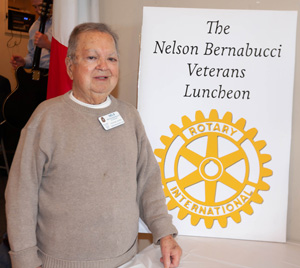 The veterans shared stories of their time in the service, ranging from memories of fallen comrades to mess tent meals gone awry. But one common theme held throughout the afternoon, Balter noted.
"The veterans at the luncheon are always grateful that they're not forgotten, and grateful for the opportunity to be with people who have shared the same things as them, no matter where or when they served," he said.
The luncheon is named for Rotarian and World War II veteran Nelson Bernabucci, who served in the U.S. Navy in the Philippines. It was made possible by the generous contributions of the Branford Rotary Club's "Rotary Partners": Empire Paving, KMK Insulation, Cherry Hill Glass, Anderson Krause Insurance, Lorensen Enterprises, Mobeck-Guandalini Insurance, Brown & Knapp and BK Benefits, Burban's Landscaping, Stop & Shop, The Parthenon Diner, All-American Waste, and American Polyfilm.