WELCOME TO BRANFORD ROTARY
The Rotary Club of Branford, Connecticut is a group of civic-minded business leaders and professionals who join together for fellowship and the opportunity to serve. As part of the 1.2-million-member Rotary International, our members volunteer their time and expertise to improve lives in Branford, across the shoreline, and around the world.
---
TURNING A 5K INTO $10K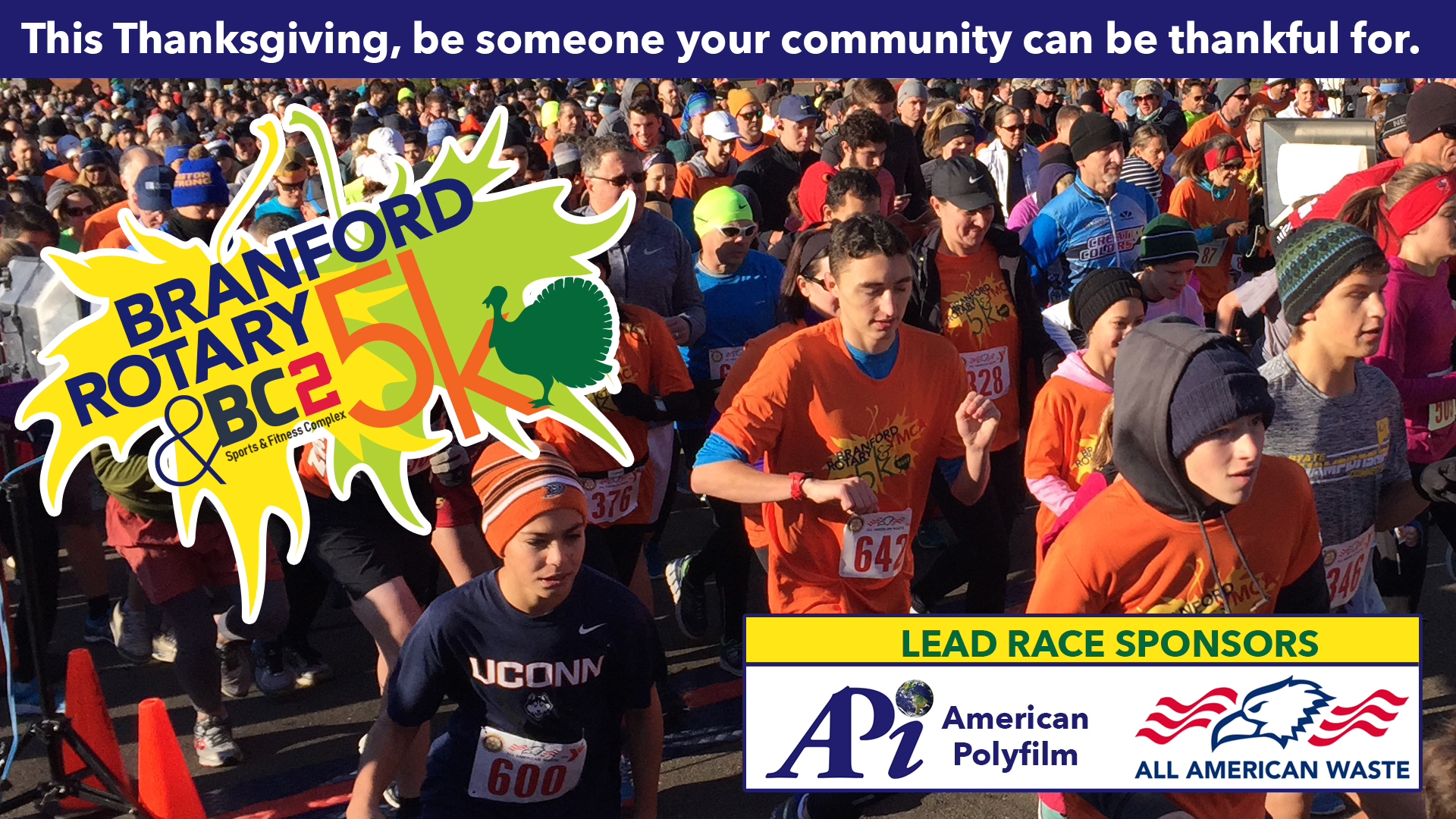 Thanks to the 1,100 runners who came to our Thanksgiving Branford Rotary & BC2 5k and Fun Run, plus the generosity of our Rotary Partners (see list at right), and a wonderful matching program at Liberty Bank, Branford Rotary is distributing more than $10,000 during the holiday season to help feed families, seniors, veterans, and more.
Among the groups and organizations we're able to help:
The Branford Food Pantry, which provides meals for an average of 204 families (about 500 people) per month.
Orchard House Adult Medical Day Center, a Branford non-profit that assists those with Alzheimer's and their families.
Branford Counseling and Community Services, which provides an incredible array of social services for residents in need.
The Community Dining Room, which servers 4,500 meals a month.
In addition, our funding also pays for:
Branford Rotary's annual Nelson Bernabucci Veteran's Luncheon, where we feed and honor nearly 100 military veterans, many of them from the VA's Eastern Blind Rehabilitation Center.
Branford Rotary's Senior Holiday Dinner, where we cook and serve a full holiday meal for nearly 200 seniors, many of whom don't have families with whom to share the holidays.
We'd like to thank the Branford community, Liberty Bank, and our generous Partners for helping Rotary help others.
---
NEW ROTARY CLUB PRESIDENT AND BOARD INSTALLED FOR 2019-2020
The Branford Rotary Club installed its 91st president Thursday, as Rotarian Gary Gambardella replaced much-accomplished outgoing President Mary Donaruma.
Gambardella, who owns Bardell Printing and Office Supplies in East Haven, joined Branford Rotary in 2012 and headed the Club's student-of-the-month program for the past three years. He begins his one-year term on July 1.
"Mary had a great year, accomplishing everything she set out to do," said Gambardella. "With 81 members, and 81 different personalities, it can be a tough job, but she really got new members involved in the Club. "
Gambardella plans to build upon Donaruma's achievements. "I want to continue keeping everybody involved in activities, and, if we can, increase our community involvement, maybe with some new events," he said. "It's important that people know Branford Rotary is a vital part of the town, and that we'll be there whenever the community needs us."
At its annual installation dinner, the Club also presented coveted Paul Harris awards to three long-standing members: Milt Baisley, John Mooney, and Rich Shanahan.
The new Board of Directors was also installed. They are Marilyn and John Altavilla, Al Bertoline, Ellen Carucci, Tom Laurenson, Andy Marlatt, John Mooney, Virginia Page, Vince Ragonese, and Mary Donaruma, as past-president.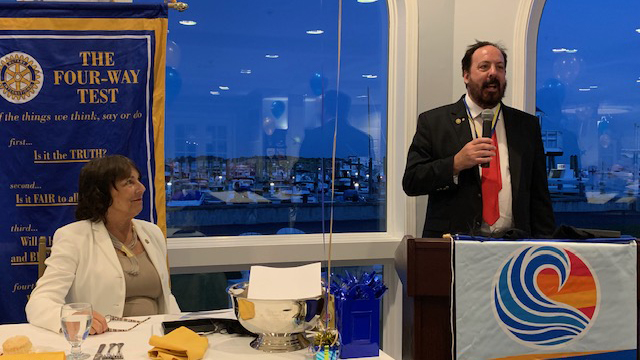 ---
BRANFORD ROTARY WINS SERVICE AWARD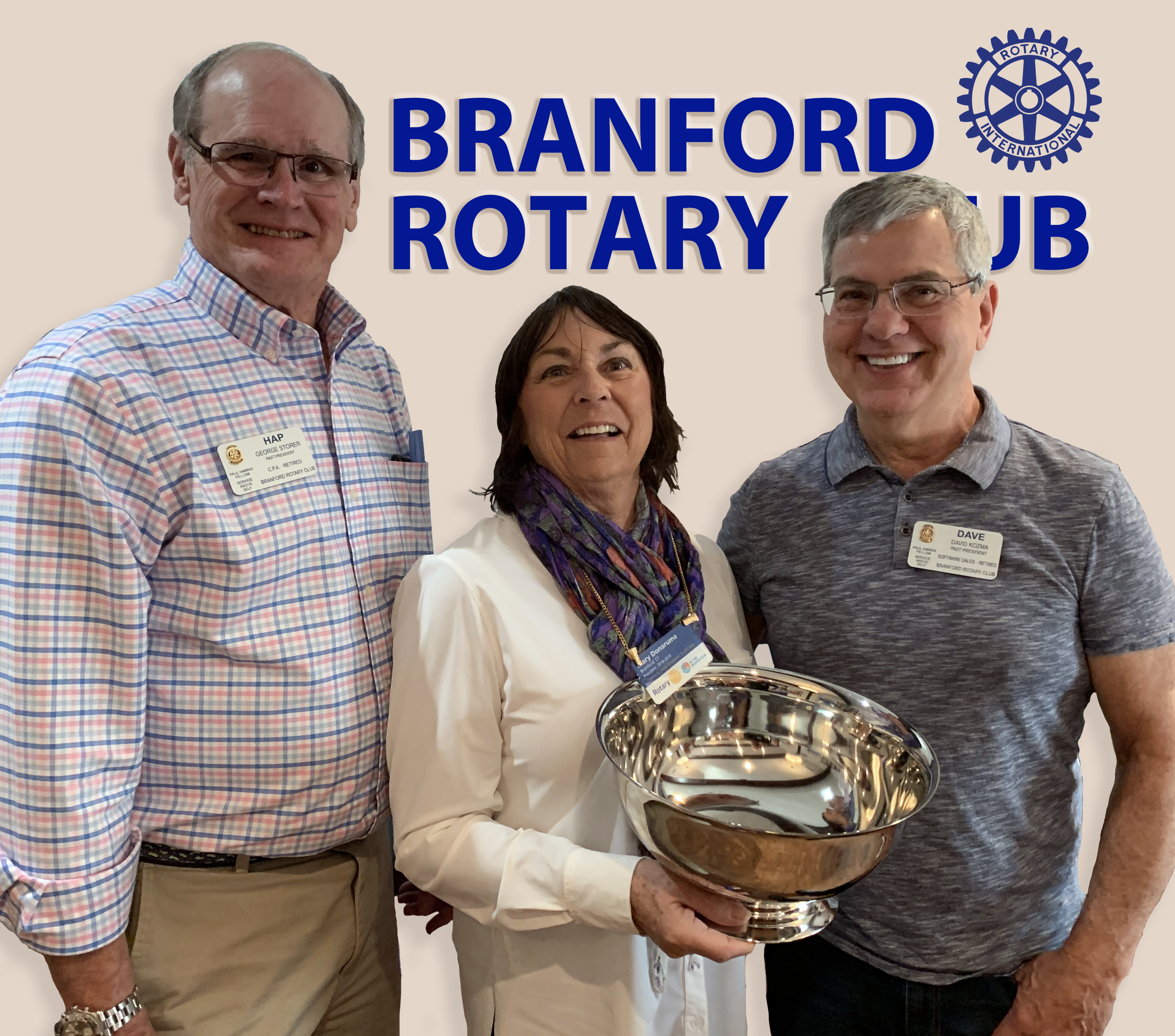 Branford Rotary Club President Mary Donaruma, flanked by past club presidents Hap Storer (L) and Dave Kozma, with the Pettengill Award, given for outstanding service during the past three years.
BRANFORD, CT, (May 22, 2019) - The Branford Rotary Club this week received the 2019 Charles W. Pettengill Award as the "most outstanding" large club from among the nearly 60 Rotary clubs in District 7980, which covers the southern half of Connecticut.
The most prestigious service honor given by the district, the Pettengill annually goes to the club that has excelled in service to its community, and in support of the international Rotary Foundation.
"I am extremely proud to accept this award on behalf of our wonderful members, who have done so much for our community and the world," said Branford Rotary President Mary Donaruma. "Because Pettengill winners are recognized for their past three years of service, I'd like to especially thank my two presidential predecessors, Dave Kozma and Hap Storer, whose dedication and hard work inspired the Club to great achievements."
With more than 80 members, Branford Rotary was recognized for its charitable giving and participation in numerous volunteer events. Among them: the Club has packaged thousands of meals for "Feed Our Neighbors" Haitian relief, hosts an yearly holiday dinner for 175 senior citizens, and every fall has a luncheon for nearly 100 veterans, annually provides free dictionaries to all 3rd graders in town, cooks for Take a Vet fishing and Pat Andriole Family Day, co-hosts the Thanksgiving Day 5k and Fun Run, and has the anchor tent at the Branford Festival. Rotary also awards nearly $10,000 in college scholarships to high school students from Branford, and last year organized the "Party at the Pond" fundraiser for the Smilow Cancer Hospital at Yale New Haven. Over the past three years, Branford Rotary has given more than $100,000 to dozens of charities and organizations, like the Community Dining Room, Orchard House, Special Olympics, Brian's Hope, the Blackstone Library, Branford Hospice, and Read to Grow.
Internationally, the Club has sent several members to Kenya to help build schools, and is funding clean water projects in Uganda. As part of Rotary International, Branford Rotary is a partner in the fight against polio, which has been a Rotary hallmark for decades.
"Branford Rotary is an extraordinary club that consistently gives back, engages on a global level to the Rotary Foundation and delivers service on a local and international level," said Rotary Assistant District Gov. Robert Friend. "The Pettengill is probably the most coveted award in the district for any large club, and my hat is off to Branford, as well as the other two fantastic Rotary clubs that were nominated, Devon and Ridgefield."
If you'd like to join or sponsor Rotary and make an impact, please contact info@BranfordRotary.org.
---
2019 ROTARY SCHOLARSHIPS: APPLY NOW!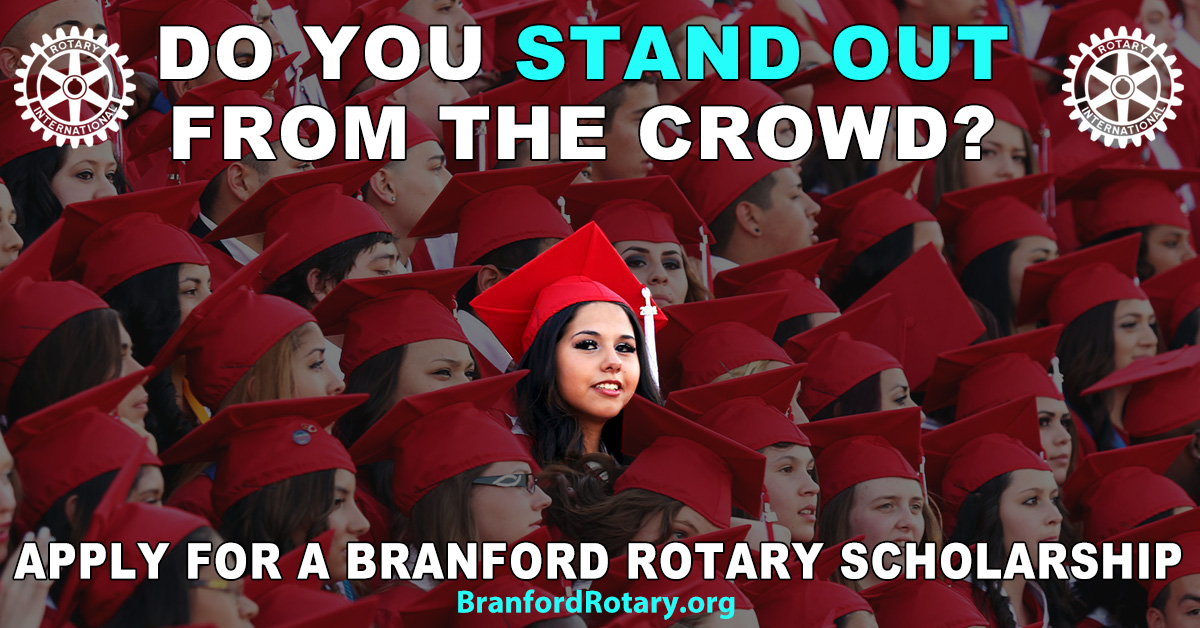 Applications are due June 10 for Branford Rotary's 2019 "Service Above Self" scholarships! Spread the word!

For more information, and to download the application, CLICK HERE.

Every year, the Branford Rotary Foundation provides $9,000 in scholarships to high school seniors who live in Branford. Rotary awards six scholarships in total: three to Branford High School students, chosen by BHS administrators, and three "Service Above Self" scholarships, chosen by Rotarians, that can be given to any local high school senior, whether they attend Branford High or another area secondary school. The top 'Service Above Self' award is $3,000. The other two are $1,500 each.

To be eligible, students must enroll in a 2- or 4-year college or technical school in the Fall of 2019. Students should also exhibit outstanding evidence of:

• Academic achievement
• Clear goals
• Participation in community service
• Adherence to Rotary "Service Above Self" values.

Financial need is not a requirement, but a statement of need is welcome.

The written portion of the scholarship application requires an official high school transcript with seal, SAT/ACT scores, a teacher reference, a letter of acceptance from a post-secondary school, documentation of community service experience, and a student-written essay focusing on how the applicant's future will incorporate the Rotary theme of 'Service Above Self.'

Applications for scholarships are available HERE or at the Branford High School guidance office. Completed Applications can be emailed to scholarship@branfordrotary.org, or mailed to:

Branford Rotary Club
PO Box 593
Branford, CT 06405

---
FOOD ON ITS WAY
(April 19, 2019) - The 46,000 meals recently packed by Rotarians at 'Feed Our Neighbors' are now on their way to Haiti, according to Haitian Health Foundation Executive Director Marilyn Lowney. Last weekend, HHF volunteers (see photos) filled a 40-foot container with the food, plus hygiene items, building materials, and medical supplies and equipment. The container has been loaded on a ship bound for Port-au-Prince, and eventually the town of Jeremie, Haiti.
Nearly 150 Rotarians and volunteers worked the 'Feed Our Neighbors' event, held March 23 in Madison, and organized by the The Outreach Program. Rotary clubs from Branford, Madison, Guilford, Clinton, East Haven and North Branford took part. Congratulations to all those who stepped up to help those in need!
---
ROTARY PEACE FELLOW APPLICATIONS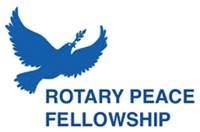 Applications for the 2020-21 Rotary Peace Fellowship program are now being accepted. The due date is May 31, 2019, and residents of Branford should make enquires to the Branford Rotary Club President, Mary Donaruma. For the application, Click Here.
WHAT IS A PEACE FELLOW?
Every year, The Rotary Foundation funds some of the world's most dedicated and brightest leaders to study at Rotary Peace Centers. Many recipients go on to careers with governments, NGOs, the military, law enforcement, and international organizations like the United Nations and the World Bank. Read more...
---
2019 FEED OUR NEIGHBORS
MADISON, CT - In one of the largest Rotary food relief efforts ever held in Connecticut, 150 Rotarians and volunteers from across the shoreline gathered in Madison on March 23 to package 46,000 meals for the struggling residents of Haiti. Read More...
---
ROTARY INDUCTS FIVE NEW MEMBERS
BRANFORD, CT (March 13, 2019) - The Branford Rotary Club proudly inducted five new members into its ranks this week, women and men who join the 1.2 million members of Rotary International in volunteering their time and effort to improve lives in Branford, across the shoreline, and around the world. The newest Rotarians are Suzanne McColl, Lucas Mainiero, Lauren Nasreddine, Sue Wharfe, and Robert Imperato.
The new members were sworn in by Assistant District Governor Robert Friend, and welcomed to the club by Branford Rotary President Mary Donaruma.
"I'm so pleased that these five wonderful professionals have chosen to step up and serve," said Donaruma. "A strong Rotary means a strong Branford, and I know our new members will be a great asset to the club and the community.".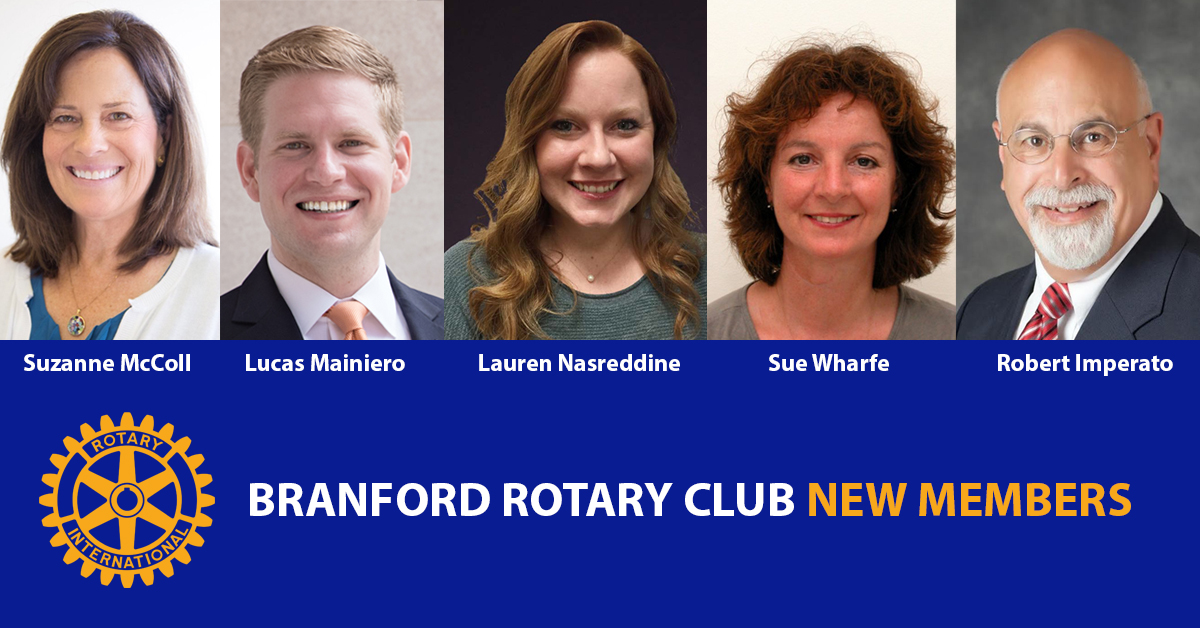 ---
ANIMAL SHELTER GETS ROTARY AID
BRANFORD, CT (March 7, 2019) – The Branford Rotary Club donated $1,000 this week to the Dan Cosgrove Animal Shelter, funds that will help homeless animals with medical needs, surgeries, specialty equipment and much more, said shelter Director Laura Burban.
"This money will help to save animals lives," said Burban. "Without the support of organizations such as the Rotary, we would never be able to help all the animals that we do."
"The Cosgrove Animal Shelter does an incredible job providing care, food, and shelter for injured and neglected animals," said Rotarian Jim Carpenter, chairman of Branford Rotary's annual Golf tournament, which raised the funds. "In recent years, with the advent of 'support animals,' the shelter has helped match people in need with the proper animal companion, which shows how they continue to improve the quality of life in our town."
The Dan Cosgrove Animal Shelter's mission is to protect the public, provide excellent animal care, find good homes for animal guests, promote responsible pet guardianship, and work to end the overpopulation of feral cats in the community.
---
ROTARY SUPPORTS ORCHARD HOUSE
BRANFORD, CT (Feb. 23, 2019) - The Branford Rotary Club this week donated $1,000 to the Orchard House Medical Adult Day Center, which provides compassionate care for aging adults.
"We are so grateful to the Branford Rotary Club for their very generous support," said Orchard House Executive Director Mary-Margaret Mandel. "Their gift helps provide therapeutic programming, medical supervision, and meals to more aging adults in need. I want to thank the Rotary for making our seniors smile."
"Orchard House is a wonderful organization and what they do for our seniors is so important for the community," said Rotarian Jim Carpenter, chairman of Branford Rotary's annual Golf tournament, which raised the funds. "We're proud to support their efforts to help people lead full, independent lives in their later years."
Orchard House has helped aging adults, especially those living with Alzheimer's disease and other dementia related illnesses, since 1981. The center's mission is to improve the quality of life of older adults and provide support for their caregivers. The goal is to enable aging adults to live independently - in the community - as long as possible.
---
2018 YEAR-END: PEOPLE OF ACTION
BRANFORD, CT (Jan. 26, 2019) - The Branford Rotary Club is proud to be an active partner in our community. How active? Here's what the Club has been up to the past few months:
• In September, Branford Rotary hosted a fundraiser to benefit the Smilow Cancer Center at Yale New Haven and the Rotary Scholarship Program. More than 200 guests helped Rotary raise thousands of dollars for those two great causes.
• September also saw our five most recent Branford Rotary Foundation Scholarship winners enroll in their universities. The Club annually awards $7,500 to high school seniors from Branford, and our newest recipients are a credit to their communities. The 2018 scholarship winners are now attending the University of Amsterdam (Netherlands), Clark University, UConn, the University of New Hampshire, and the University of Delaware.
• As October came in, the Rotary distributed 350 free dictionaries to all third-graders in Branford schools. This is an annual program run by the Rotary, and is made possible by donations from our generous Rotary Partners.
• Rotary also participated in (a very wet) Take-A-Vet Fishing event last Fall, cooking food for veterans who spent the day fishing at Killam's Point, part of a program run by the Branford Congregational Church.
To read more, CLICK HERE.
---
SALUTING OUR VETERANS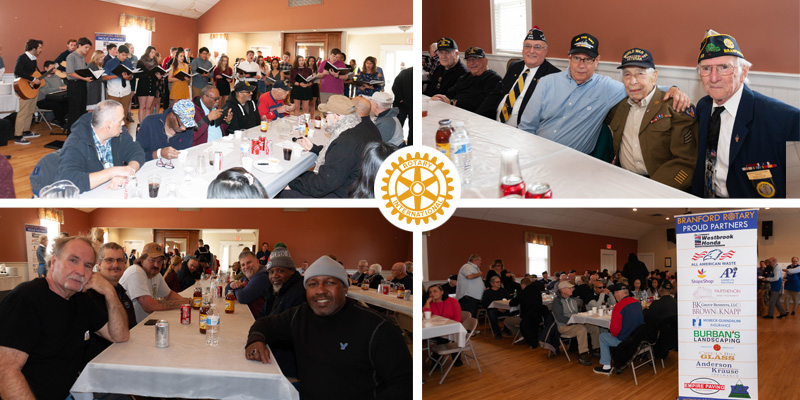 The Branford Rotary Club once again honored those who served in our Armed Forces at the annual Nelson Bernabucci Veteran's Luncheon in November. More than 60 veterans, spanning 75 years of United States military service, attended the event, where they told stories, shared laughs, and were serenaded by the Branford High School Music Makers chorus.
Held at the Italian American Club, the luncheon hosted special guests from the VA's Eastern Blind Rehabilitation Center, as well as members of the American Legion and VFW. Veterans who served from World War II through Afghanistan and Iraq were honored.
"Veterans ensure that we have the rights and freedoms we all benefit from," said Rotarian Josh Balter, who chaired the event and was a 20-year Navy Chief. "When we take the oath to serve, every man and woman in uniform writes a blank check that says we are willing to give our lives for our country. The luncheon is one small way we can honor their sacrifice."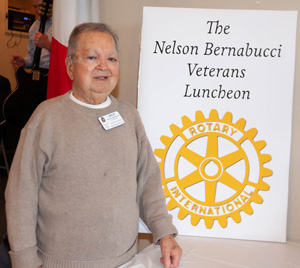 The veterans shared stories of their time in the service, ranging from memories of fallen comrades to mess tent meals gone awry. But one common theme held throughout the afternoon, Balter noted.
"The veterans at the luncheon are always grateful that they're not forgotten, and grateful for the opportunity to be with people who have shared the same things as them, no matter where or when they served," he said.
The luncheon is named for Rotarian and World War II veteran Nelson Bernabucci, who served in the U.S. Navy in the Philippines. It was made possible by the generous contributions of the Branford Rotary Club's "Rotary Partners": Empire Paving, KMK Insulation, Cherry Hill Glass, Anderson Krause Insurance, Lorensen Enterprises, Mobeck-Guandalini Insurance, Brown & Knapp and BK Benefits, Burban's Landscaping, Stop & Shop, The Parthenon Diner, All-American Waste, and American Polyfilm.
---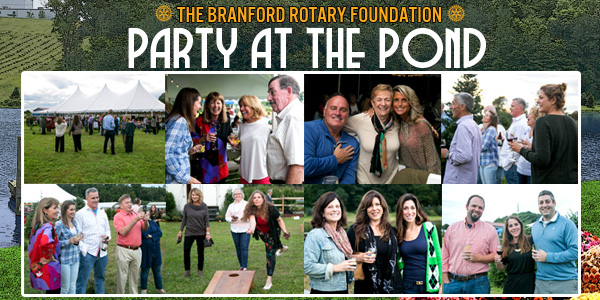 Photos from the Party at the Pond are now available for perusal and download, and for free. It's our way of saying thank you to those who supported the Branford Rotary Foundation and Smilow Cancer Hospital at Yale New Haven on a glorious night at Van Wilgen's.
If using mobile: https://bit.ly/2OykWPP
If using a browser: https://triciabohanphotography.zenfolio.com/p977830528